Half Day Tour – 4 hours
Rate –

R 560

per person
The Cultural Township Experience will introduce you to Township life in South Africa as you are guided on an educational, informative and diverse tour. Not only will you hear the history of the Townships surrounding Cape Town, but you will have the opportunity to visit with people who live in the Townships, experience some of the businesses there, and learn about day to day life in a township.
As well as learning about Township life, you will also have the opportunity to purchase handcrafted gifts made by locals living in the Townships. Other highlights include visiting school projects, B&Bs in the Townships, and enjoying a traditional beer at a shebeen.
The tour will open your eyes to the history of South Africa. Following the tour of the Townships, we will visit the District Six Museum in Cape Town. Guests will then be returned to their Cape Town accommodation. Your safety is our priority at all times.
Highlights of Half day tour
Tour through the Langa, Gugulethu and Khayelitsha townships
Visit an Informal Settlement
Visit a School Project or Creche (weekdays only)
Local Craft Market
Local business, including a shebeen (where you can taste African traditional beer)
District Six Museum
On Sundays, the tour can include a church service
Entrance Fees
Our rates include all the entrances plus African traditional beer tasting.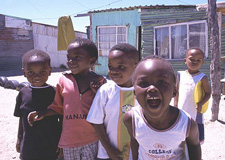 Optional
Lunch or Dinner at a township restaurant can also be arranged. Please speak to us when making a booking, and we will facilitate this unforgettable experience.
The Robben Island trip can also be included in the afternoon to make this a full day experience. The Robben Island trip (ferry and guided tour around Robben Island) is approximately 3 1/2 hours, and costs R360 per adult. Please speak to us when making a booking.
Contact us now to make reserve your place.
Include one of our other half day tours at a discounted price to enjoy a full day in Cape Town.
We collect you from your Cape Town accommodation, or a convenient meeting point, and conduct all tours in an airconditioned minibus. We keep our tours small and personal.
City Afternoon and Skyline Drive
Cape Point and Cape Coastal Scenery Tour
Winelands Tour
Photograph on top of page of Children Playing Soccer by Willem van de Polder